Hello, and welcome back! In this article, I will share how we purchased our second property by converting our first residential property into a rental, thus becoming first-time landlords!
Preparation and planning were vital when we bought a second property and rented out the first property.
According to Pew Research Center, most landlords located in the US own just a few units (see image below). Starting small and early is the way to do it.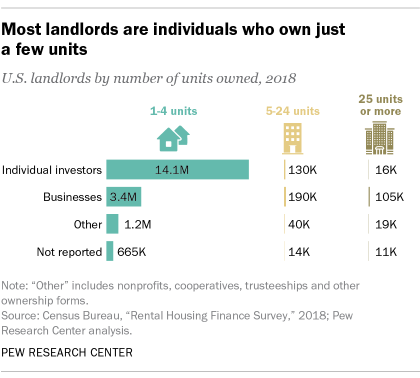 This post may contain affiliate links; please see our disclaimer for details.
After one year as a bilingual supervisor, I felt too comfortable with day-to-day responsibilities.
The work was not as challenging anymore, although I loved what I was doing.
Sometimes it can be very difficult to leave a job, especially when you feel comfortable and have good co-workers.
My wife Shan kept encouraging me to find a higher position or a new job. I am very grateful for her advice and encouragement!
A few months passed, and I received an offer as an account manager at a financial software company.
After accepting the job offer, I decided to switch all my college classes to online classes so my schedule could become much more flexible.
We then started looking for our second property in Utah. We planned to rent out the property we lived in (our first property) and become landlords.
We put down a 5% down payment for the second property because we did not have much in our savings at the time. We also wanted to move into a new place asap since the housing market was pretty hot.
The sooner we could close on the property, the sooner we could start building equity.
This is one of our favorite quotes about real estate –
"Don't wait to buy real estate, buy real estate and wait. "

T. Harv Eker
Since it was our second property, we could only apply for a conventional loan which requires a minimum of 5% down. We also needed to pay PMI (mortgage insurance) since the down payment did not reach 20% of the loan's total amount.
The process of finding our second property took a little longer than expected, and we actually got outbid once!
If you're worried about how to handle a house bidding war, you can check out our article 6 Useful Tips To Win A Home Bidding War.
Eventually, we found a cozy 3 bedroom/2 bath condo built in 2002.
The condo had high-quality waterproof LVP flooring. The location was very close to our college, our first property, and my new company!
On top of that, the condo was also only 3-5 minutes from shopping districts with stores like Walmart and Costco. Talk about a great location!
Our Second Property
We highly recommend comparing and negotiating with at least three different lenders to get the best rate and deal at closing.
Sometimes smaller or less known lenders have more flexibility and can offer a better deal!
Here are some of the most commonly required documents when applying for a home loan or refinance. Your lender may ask for additional documents on a case-to-case basis.
2-year tax returns
Pay stubs, W-2s, or other proof of income
Bank statements and other assets
All of your debt monthly payment history
Credit score, credit history
Gift letters (if someone helps you with down payment etc.)
Photo ID, SSN
Rent history if you are renting, mortgage/HOA history if you are a house owner
House insurance company if you have a preference, usually it will cheaper when you bundle with car insurance.
If you have tenants, include rent payment history & current lease agreement.
The total price of the condo was $171,000. Our down payment + closing costs combined were around $10,000 total.
Our monthly payment with HOA and mortgage insurance included was $1,200.
When applying for the loan, we found out we had a collection account – which we had no idea about!
Related content: How We Successfully Dealt With Debt Collectors.
We ended up not getting the best interest rate due to the collection account, which was very tough at the time.
The interest rate ended up being around 5%. The good thing is that we learned a valuable lesson and have since become much more careful of our credit scores in the future.
During the one month of underwriting, we started renting our first property/townhome out and officially became first-time landlords! We had to contact our HOA to inform them we would be renting out our unit and provided a city rental license.
Related content: 7 Mistakes To Avoid As A New Landlord (Our Experiences)
During our first year living in our first property, we remodeled and switched old appliances to new ones. We found the least expensive appliances to replace the old ones.
As college students, we both did not have much knowledge on how to remodel/rehab properties. I was also not a natural handyman, so we did not do a ton of remodeling before renting out our first property.
Thinking back, I regret not doing more remodeling since it would have let us rent at a higher price and would have added more value to the property.
Fortunately, the townhome was close to colleges, so renting out was not difficult.
We were happy to find a very nice newlywed couple as our first tenants.
We rented the unit out to them for $1000 a month, giving us $250 extra cash flow each month!!
Our realtor let us use a free rental agreement that she was also using. I remember when talking to our first tenants for the first time, and they were shocked we were the landlords at our young age.
If we can become first-time landlords in our early 20s, you can too; it's never too late (or early) to start!
"Landlords grow rich in their sleep."

John Stuart Mill
See "How we purchased our first property at age 21 during college" for more information on our first property.
If you are tight on cash and looking for an affordable way to invest in Real Estate now, then FUNDRISE is an excellent choice. They provide a crowdsourcing real estate investing platform where the investing minimums are only $10.
Feel free to drop a comment below with your thoughts or questions!
---
Disclaimer:
We hope the information in this article provides valuable insights to every reader but we, the Biesingers, are not financial advisors. When making your personal finance decisions, research multiple sources and/or receive advice from a licensed professional. As always, we wish you the best in your pursuit of financial independence!